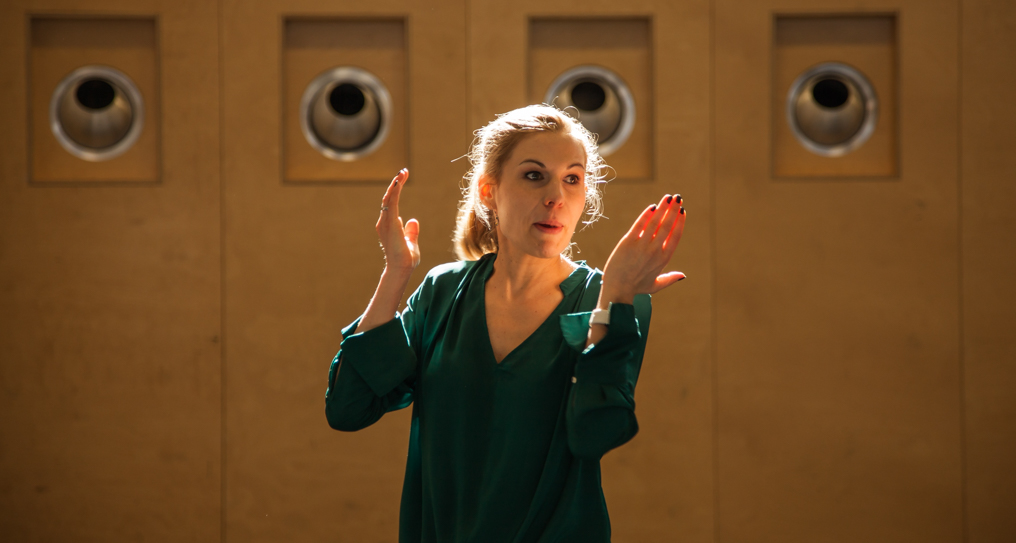 Johanna Krumin
Mikis Theodorakis about CD "Echowand":
"Johanna has a way of singing that forces you to listen. You can't get any closer to me as a musician than her."
UZ Hilmar Franz 14.08.2015, athener Tagebuch asti-blog 29.07.2015
Johanna Krumin studied singing in her home city of Berlin (HfM Hanns Eisler) and was at the same time engaged as a full member of the RIAS chamber choir. Since completing her studies, she has performed both as an opera and concert singer: at the Ruhrtriennale, the Leipzig Bach Festival, and the MDR Music Summer; with the Gewandhaus Chamber Ensemble, the German Chamber Orchestra, the Konzerthausorchester Berlin, the Potsdam Chamber Academy, the Bratislava Chamber Orchestra, the Leipzig Chamber Orchestra, the Prussian Chamber Orchestra, the Berlin Bach Academy and Bach Collegium, the Berlin Symphony Orchestra, and the New Westphalia Philharmonic.

Johanna Krumin's stage talent and experience has been personified in such roles as Contessa (Figaro), Pamina, Fiordiligi, Donna Anna and Donna Elvira, Manon/Massenet, Agathe, Antonia and Giulietta, Mimi, Violetta, Adina, Gräfin Mariza by Kálmán and Sophie Scholl (Die Weiße Rose/U. Zimmermann).
She has also performed in concerts broadcast on German radio (Deutschlandradio Kultur, among others). Johanna Krumin also devotes her time to contemporary music and has sung numerous premiere performances, including some with live-electronics (with such projects as the MDR Music Summer, Phase 7 performing art, and musica reanimata).

Her pedagogical activities have included teaching master classes, like "Le Chant – le Lied" in Benin/Africa, publishing articles on diction for singers and giving lectures on word-tone relations in singing. Furthermore, she is an associate for inhouse training with the Leadership Orchestra.

Her latest Solo-CD has been coproduced with Bayerischer Rundfunk Classic and has won the super sonic award.