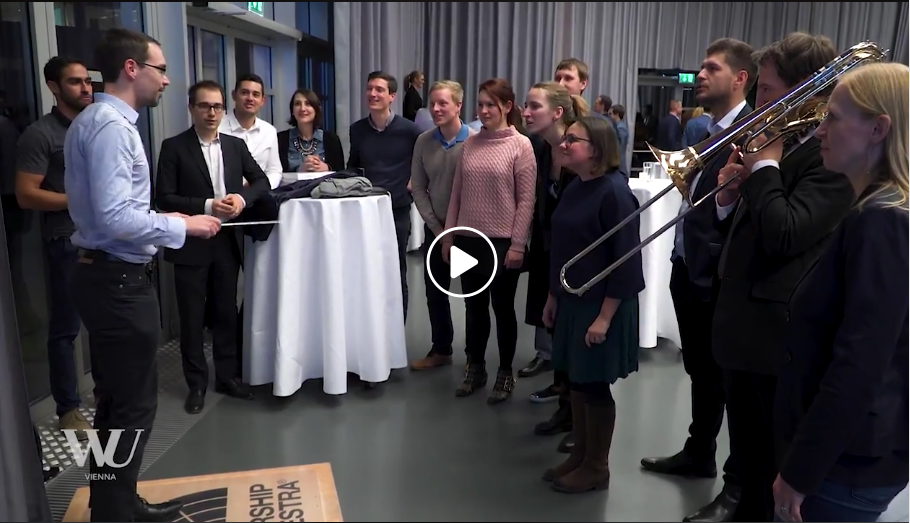 Since 2002 we have a close cooperation with WU Executive Academy Vienna. You see an interactive keynote for international MBA students.
"Our Future Leaders alumni group were particularly impressed by the interaction they had with Lorenz and the musicians. It is a fun, hands on way to learn and is a very good format for putting across the serious lessons that future leaders in the financial sector need to know in order to get the most from business."
Orchestra Lab
Experiencing the success strategies of peak orchestras and conductors

Participants sit together with musicians in orchestra seating formation and conduct themselves
Focus:

Balanced leadership, self responsibility, common dynamics
"It's all about the right balance of perception and action. A team will only respect the formal leaders, when they don't feel over-controlled or under-controlled."
Digital Orchestra
How music industry overslept digitization and woke up brutally

Today, successful orchestras combine modern AND traditional working styles

Focus:

Inspiration for digital and agile working, fascinating experiment with audio engineer
"Today, many tasks can be substituted digitally. But the identity of a team will never be substituted. That's why, the combination of virtuosity and emotion is the crucial factor for the future."
Orchestrated Alpha-Teams
How key players in the orchestra coordinate themselves

Interaction with conductor, concert master, soloist and ensemble
Focus:

Top teams constantly prove themselves towards the market and staff
"Executive teams consist of strong personalities. They will only succeed, when they manage paradoxes and don't tolerate specious harmony."
Interim Symphony
How guest conductors succeed as effective interim managers

Interactions with musicians
Stories about famous guest conductors
Focus: Observing and s

ettling into the existing organization, smooth & gradual change, responsible hand-over to successor
Question mark?
We are available for your questions.